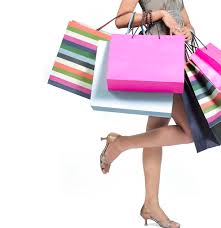 For most people, shopping can mean a lot of things. It can be a therapeutic activity, a means to reward oneself after a challenging day at work, or to stock up on items needed at home or in the office. The downside is that this could also mean unnecessary expenses especially when we get overpowered by our impulse to splurge. So, what are the things we can do to still be able to shop at our favourite store without breaking the bank? Here are six tips you can keep in mind on your next shopping spree.
Don't go over your budget.
The most important thing to check before heading out to the store is to determine whether or not you have enough money to cover your shopping expenses. Buying groceries or getting a new pair of pants isn't the only thing that you will have to buy for the week ahead, so don't spend your money all at once.  It will be quite useful to set a reasonable budget and make sure that you stick to it so that you don't find yourself with holes in your pockets even before your next payday.

Make the most out of discount coupons.
There's a reason why some people are so crazy about coupons. There are just so many deals and discounts you can get when you know how to use them. Why miss out on paying half the price when coupons are so easy to use and find?  The great thing about coupons is that you can easily find them in magazines, newspapers, and even online. You can check out Total Discounts to get loads of amazing deals that will help save you tons of your hard-earned money when you decide to go shopping.
Make a shopping list beforehand.
To help you stay within your budget, it would be helpful to make a shopping list. Knowing the most important things you need to buy can help you prioritize your needs over your wants. Make sure you take care of your immediate needs first before thinking of your wants.
Know when the best time to buy is.
There's nothing wrong with buying items that are on sale. If your schedule will let you, then you can time your purchases on sale dates so that you can get the best deals. You might even score unexpected items if you look hard enough.
Learn how to substitute.
There are some brands that we absolutely swear by, but some of these brands may be a bit expensive. When you're on a tight budget, you must also be smart about your choices. We shouldn't be afraid to substitute our favourite brands with their much more affordable but just as good counterparts.  Just make sure you buy something that is also of high quality. You might just discover a new favourite brand when you decide to try something new.
Pay attention to what's in your cart before checking out.
This should be your very last step before heading to that check-out counter. After checking everything off your shopping list, take the time to double-check if you've missed something, or if you've lost track of your goals along the way.  Look at each item and re-think if you really need it or not. Be honest with yourself especially because no one's there to stop you from impulse shopping. If you don't really need them at the moment, better to put them back and get them when the time is right and your budget is more permitting.
These are great tips to keep in mind to help you become more mindful of your shopping habits. It is important to practice practicality when we shop so that we can also teach ourselves about the perks of saving up for a rainy day.