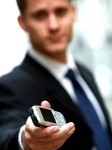 My husband and I are currently traveling to various national parks throughout parts of the United States.  As Canadians, we didn't have a cell phone that would work in the U.S.  So, after doing some research online, my husband discovered that you can buy a cell phone at Best Buy in the U.S. that is incredibly cheap.

We didn't want anything fancy. We mainly just wanted a phone in case of emergencies as well as to connect with our American friends when we pass through their neck of the woods.  The cell phone we purchased cost us only $10.  Then, we bought a top up card for $40 which expires within three months.  We pay 99 cents for the days we use the phone in the United States.  If we don't use it, then we pay nothing.  On the days that we do use it, no matter how many phone calls we make throughout the U.S. we are only charged 99 cents.  Since we plan to be in and out of the States for a few months at least, we decided that this would work really well for our purposes.
The best thing about it is there is no contract or commitment.  We can let it sit for a year if we want to, and then buy another top up card the next time we plan on going to the States.  It is hassle-free and you can even top it up online without having to buy a top up card at Best Buy.
To call Canada, the cost is 29 cents per minute plus air time, Sso we use our Magic Jack phone service to call Canada instead.  But it's good to know that we can use this cell phone if we needed to call home.  So, if you are planning on traveling to the States, or you are an American resident, you may want to check out this cell phone.  It's through Verizon and if you go to any American Best Buy they will know what I am referring to.  You can also surf the Internet using this phone and take pictures, etc.  The Internet usage costs extra.
It is always important to have a phone with you in case of emergencies when you travel, but thankfully you don't have to pay an arm and a leg for one when you travel in the U.S.