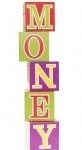 There are a lot of great resources online that will help you teach your children about money, whether you are a parent or a teacher.  One website that is a one-stop shop is MoneyInstructor.com.  The website contains all kinds of lesson plans, worksheets, and activities designed to teach kids about finance and other basic subjects.  Most of the lesson plans are geared towards elementary school aged children.
You will find worksheets that teach basic math skills, how to count money, how to tell time, how to read a calendar, and a whole lot more.  There are also activities that teach kids about bank accounts, different types of investments, and so on.

Other activities teach kids about credit cards, insurance, paying taxes, and even budgeting.  Kids are never too young to start to learn the basics about finances.  Unfortunately too many parents neglect to teach their kids about money and then their kids are ill equipped to know how to handle it when they are on their own.
This is the aim of the MoneyInstructor website: "Many young people graduate without a basic understanding of money and money management, business, the economy, and investing.  We hope to help teachers, parents, individuals, and institutions teach these skills, while reinforcing basic math, reading, vocabulary, and other important skills."
When it comes to educating your kids, make use of MoneyInstructor.com and other resources to help you make these concepts make sense to your kids in a fun way.  You don't have to reinvent the wheel, use the resources that are available to you online and at your local library.