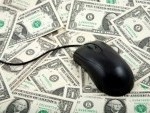 If one of your New Year's Resolutions for 2010 is to create a budget and stick to it, I found a nifty tool that you might find helpful.  Kiplinger.com has a budgeting tool that will help you get started.  It lists several possible expenditures that your family may incur, and it has the function to do the math for you, so you will know in an instant how successful you were at sticking within your budget.
Don't be discouraged if at first you find it difficult to determine how much should be allocated to each expense.  It will take time to figure out what is practical and reasonable.  It will also take some time to get used to having to stick within a set budget, but you can do it.  Believe me, it's worth it if you don't want to squander all of your money.
I especially like the fact that this tool also accounts for your savings budget, containing fields for an emergency fund, a vacation fund, etc.  The tool was created for Americans as one of the fields is labeled Retirement/401(k), nevertheless this tool can be used by anyone, and Canadians can put their RRSP savings into this field.
If you don't already follow a budget, I want to encourage you to set one up for 2010.  This tool will help you to get started.  Click this link to check out the budgeting tool.