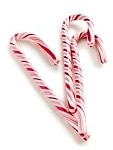 If you are like me, when it is really cold outside, all you want to do is stay at home and sip something hot.  Well, for Christmas this year, friends of ours gave us some homemade Peppermint Cocoa in a cute little jar.  It tastes great and warms you up from the inside out.
The recipe is as follows:
2 cups icing sugar
2 cups coffee whitener
½ cup baking cocoa
4 large candy canes (crushed)
Once mixed, put 3 heaping teaspoons of cocoa into one cup of boiling water or hot milk.

While many of us are wondering what to do with all the leftover candy canes from Christmastime, why not try this simple recipe?  Give some to your family and friends and they will love it.