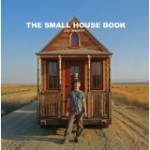 There are all kinds of people out there in the world.  I recently came across a website about people who got sick and tired of paying off big mortgages, so instead, they decided to live in a tiny house and pay for their home in cash.
These folks may have a number of reasons for living in a tiny home called a Tumbleweed Tiny House.  Some are concerned about the environmental impacts of having larger homes; others just don't need a lot of space, while others are mostly just glad to be rid of their mortgages.

The houses range from as little as 65 square feet to 837 square feet.  The latter is really not that small, as many regular bungalows can be that size.  You can see pictures of various homes that have been built on the Tumbleweed website. It is amazing that some people want to live in houses the size of a garden shed!
If the Tumbleweed Tiny House Company inspires you, you can find all the details by checking out their website.   You can also read the book entitled The Small House Book
by Jay Shafer.
As I continue to research the many ways that people can use their money wisely and save money, I am continually surprised by all the unique and sometime bizarre ideas out there.  By North American standards these tiny homes may seem a bit too small, but if we look at how some people live in other parts of the world, perhaps the tiny homes are really not so bad after all.