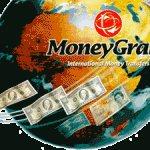 I recently sent money overseas and before I did so, I compared the cost of using MoneyGram versus the cost of wiring the money through my main bank.  This is what I discovered:
Using MoneyGram
To send money using MoneyGram, it would only cost me $25 and the person receiving the funds would not have to pay anything.  The process was quick and easy.  I just went to a local post office outlet and provided them with a piece of ID and used my debit card.  I was then given a number that I had to give to the recipient. The recipient then would simply go to a MoneyGram outlet and provide that number.  That's all that was necessary.  It's quick and easy and inexpensive.  The recipient can receive their money within a few minutes.

Wiring through my bank
Alternatively, this is what was required if I sent the money by wiring it through my bank:
The complete address, phone number, transit number, institution number and SWIFT code of the receiving bank.
The full name and complete address and the account number of the recipient.
So, not only would I have to gather all that information, the cost to wire the funds from my end would be $45.  The recipient would also be subject to fees from their bank for receiving the wire.   (The fee varies depending on the financial institution.)
If you want to send money overseas, I would highly recommend that you check out MoneyGram.  It may end up saving you time, money, and a lot of hassle.  To find out more information about MoneyGram visit  www.moneygram.com.  Note that you can also sign up for MoneyGram rewards and save 5% on their fee.