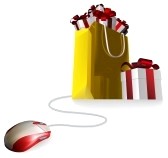 I had a great time Christmas shopping this year.  I don't really enjoy shopping in crowded malls, so this year I avoided the mall scene altogether.  I shopped on amazon.ca and found everything I was looking for, and at reasonable prices, too.
Here are some ways to make amazon.ca work for you:
 Take advantage of free shipping.   When I first started shopping, I found a few items I really liked but didn't pay attention to the shipping fees.  When I proceeded to the checkout I realized that the items I chose did not qualify for free shipping.  Go figure!  I hadn't noticed that the items I selected were not Amazon products, but instead, were sold by a private seller using the Amazon website. Those products do not qualify for free shipping.  So, after learning this the hard way, I decided to make a point of only looking at the products that are eligible for free shipping.  Amazon provides free shipping when you buy a minimum of $25 worth of products.  That's a great deal!

Amazon can ship items directly to the recipient.  If you are ordering something for faraway friends and family members, you can change your shipping address so that the items are sent directly to the recipient.  This saves on postage and on time.
Compare US and Canadian prices.  Because I live so close to the American border, I also made sure to compare prices between amazon.ca, the Canadian website, and amazon.com, the US version.  Although amazon.com sometimes had better prices, by the time I took into account the cost of fuel and the pick- up fees associated with using our local Border Services agent, it didn't make sense for me to order anything on the American site.  But it was still nice to know that I wasn't paying way too much for my gift items.
Amazon is a great website to check out if you are like me and averse to shopping in crowded places.  If you want to try a different route to getting your Christmas shopping done, I would highly encourage you to try this option this year.  See what you think.  You may find yourself shopping online every year after this.