Although I have written blogs about some big money wasters already, I think it's important to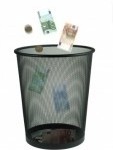 emphasize them so that we can avoid them.  There's no point in wasting money that we work hard for.  Think about it this way, if you waste your money, you are also wasting your time.  Why?  Because the more money you waste, the more time you have to spend working to pay for it all!  Below is a list of just some of the money wasters out there.  There are many more, so watch out for them!
 1.  Eating out rather than bringing your own lunch to work.  Bring some leftovers from last night's supper rather than spending $5 to $7 everyday to buy lunch.
 2.   Buying food and then letting it rot in the fridge.  It happens to all of us.  But why?  We need to be more aware of what we are buying and make sure that we are eating it before it goes bad.
 3.  Bottled water.  Rather than buying hundreds of bottles and polluting our environment, why not save your money and the environment and drink filtered water brought from home?  At around $1.50 a bottle, if you buy one bottle of water every day, you are wasting almost $550 per year! 
 4.  Snacks purchased from vending machines.  These are a major rip-off.  If you get hungry in the afternoons, bring your own granola bars or some fruit purchased from a grocery store. 
 5.  Coffee.  If you enjoy specialized coffees, rather than buying one every morning at Starbucks on your way to work, purchase a whole package of the kind you like, and make your own coffee at home.  You can enjoy the same, great tasting coffee for a fraction of the price.  Thermoses work great for keeping your coffee hot during your commute to work.
 6.  Extended warranties.  When you shop at most electronic or appliance stores, the employees are often compensated for selling extended warranties. Be on your guard and don't let yourself be duped – they are a huge waste of money. 
 7.   Subscriptions and memberships that you don't use.  There's no point in paying for something that you aren't using.  If you have joined a gym, but never go, why pay for it?  The same goes for magazines.  If you subscribe every year out of habit, but never actually read the magazine, there's really no need to continue the subscription.  Often times we just forget what we signed up for.  It pays to pay attention!
 8.   Paying interest on your credit cards simply because you forgot to pay your bill on time.  Ouch!   It is important to keep on top of your bills so you can eliminate late fees and interest charges.  If you have the money to pay your bills, make sure you pay them on time. 
 9.   Fresh cut flowers.  I already wrote a blog about flowers, suggesting that if you do buy fresh cut flowers you should buy them from a grocery store instead of a florist.  In m humble opinion, potted plants make a better gift because they last longer.
 10.  Buying a music CD because it contains 2 or 3 songs on it that you like listening to.  Instead of spending $20 for just 2-3 songs, download the songs that you like for less than a dollar on iTunes.
 11.  Cigarettes and alcohol.  These are both huge money wasters.   Enough said.
 12.   Snacks at movie theatres.  Even if you go to the "cheap theaters" the snacks are still highly over priced.  The best way to avoid wasting money at theaters is to eat a snack at home beforehand so that you are less tempted.
 13.  Washing your car too often.  Car washes can be expensive, unless of course you take out the hose and wash your car yourself!  Even if you have a newer car, there's no need to wash your car every week!  Just try to avoid big puddles and don't go offroading too often. J–
 14.   Buying precut vegetables and fruits, stir-fry mixes, salad mixes, and grated cheeses are all examples of big money wasters found in grocery stores.  Although they are convenient, it makes more sense to spend that extra bit of time preparing your foods rather than buying these products. 
 15.   Banking fees.  If you don't do your homework and understand what types of bank account fees apply to your accounts, you could be wasting tons of money simply because you have the wrong bank account type.  For example, if you are a senior or a student, you can likely get a bank account with limited or no banking fees.  Find out if you are charged fees for using ATMs, and if so, use them only if necessary and consider getting cash back at retail stores instead.