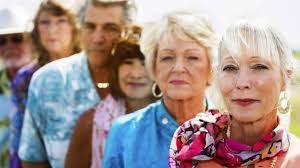 It seems but a short while ago that the baby boomers were called by other monikers, according in great part to our philosophical, social, and fashion sensibilities – hippies, mods, rockers, rednecks, heads, straights, among others. We were, as a group, restless, questioning, and in many cases, driven by a wanderlust our post-WWII, post-Great Depression parents could never comprehend. In spite of, or perhaps due to being such a diverse generation, we all seemed to share one trait. We were always in the minority.
Fast forward to 2015, and we, the eternally young, are getting old. We don't think we look old, despite our rapidly colour-changing or vanishing hair, our daily deepening wrinkles, and our parents' paunch, all of which we seem to have inherited within the last few months. We certainly don't feel like we're old, aside from our skeletal barometers that are more accurate in predicting changes in weather than any television meteorologist. It is just that things today are heavier or further away than they used to be. We're still cool, even if it takes a few extra vitamins and blue pills to keep us that way, and our bean bag chairs have been replaced by recliners. Our music, of course, remains the pinnacle of the ages, surely more relevant than the racket being made by the X-ers, Y-ers, millennials, or whatever the kids of today call themselves.
We are not such a minority any more
According to the International Longevity Center, the 15 to 64 age group, including our children, is growing at a rate of only 29,000 per year in the UK. By comparison the generation aged 65 and over is growing at the rate of 278,000 per year. We can proudly cry out for that Power to the People now; just not quite as loudly.
That the baby boom generation has come into its own (whatever that means) is evidenced by the increased marketing campaigns that are clearly meant to appeal to these seniors who refuse to be old. From 70s-era songs playing in the background of adverts targeted to affluent tweeniors, to commercials for the aforementioned blue pills, to adverts with attractive, young-ish, active characters singing the praises of incontinence products, society has developed a growing awareness of the reality of a generation clinging to the fantasy of eternal youth.
Caring for a growing elderly population
The sheer numbers of our aging citizens should give pause to anyone with even a basic grasp of the cost of caring for them as they grow older. It is estimated that by 2050, people over the age of 65 will actually outnumber those under five, for the first time in history. The number of people over 65 will increase by 51% by 2030, and the number of people over the age of 85 will increase by over 100% during the same period. As our aging population requires ever-increasing levels of services including healthcare, assisted living and increased medications, the segment of the population whose taxes pay for those services is shrinking. Seniors would be wise to prepare themselves for a time when the services to which they have grown accustomed are stretched thin, perhaps even to the breaking point. The conservative Cameron government's expected austerity measures could leave seniors more than a little worried.
Preparing for those "golden years"
Many of those in the 65-and-over age group have saved too little for a comfortable retirement, or saw their savings eroded during the financial crunch. More of our elderly will find themselves relying heavily upon a government pension that if not modified, could eventually become unsustainable. Even with the pension top-off, pension payments are barely keeping up with inflation, which has been abnormally low in the wake of the economic crunch. It is almost certain to rise as full recovery is achieved. The result could be that many seniors will be forced to continue working, typically in lower-paying jobs, just to support a reasonably secure lifestyle. Even a significant number of those who have saved properly will find themselves faced with the need to tighten their belts and eschew some of the luxuries they had so eagerly anticipated.
On the bright side, it is possible that the conservative austerity measures will be successful enough to maintain pension funds and provide adequately for a growing population of retirees. By implementing our own moderate austerity measures as we age, and continuing to pressure the government to keep its promises, the swelling numbers of older Brits could ultimately achieve a level of comfort they – we – deserve after working and contributing to the program for so many years.