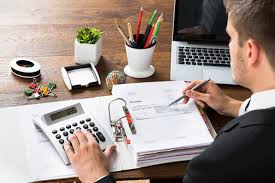 Your business isn't going to function particularly well if you're supporting a chaotic work environment. It's your company and you have to step up and take control of it, so you're not always running around frantically.
If you continue to work like this, eventually your clients will catch on and they'll be turned off by your disorganization. It's not worth losing customers over. Focus your time and energy on perfecting policies and procedures and creating a foundation and atmosphere that promotes effectiveness and efficiency. You'll work faster and be happier. See best practices a Certified Public Accountant (CPA) needs to run a smooth business.

Continuing Education
The most important action you can take is to learn and educate yourself on various industry topics. The more you know, the better you can serve your clients and the more services you'll be able to offer. Go online and study, take AFSP courses and read publications that discuss subject matters related to your job functions. Gain knowledge and work to become an expert in your line of work. Showcase your expertise to your customers and the community, so they know you're qualified to help them.
Communication
No business is smooth with poor communication. Even though you may not have employees to communicate with, you do have professional and customer relationships to manage and attend to. Brush up on your communication skills, both verbal and written, so you can minimize any unfortunate situations caused by a misunderstanding. Most importantly, you need to be able to communicate clearly with your clients and get on the same page before you begin any work for them.
Client Management Strategy
It's especially important to stay on top of your client relationships and nurture them consistently. Don't disappear for months and come back when you need information from them. Stay in touch on a regular basis and start to build a solid relationship with each client. They'll appreciate the effort and will feel important. Host client appreciation events where you celebrate your customers and show how thankful you are for their business. Document all of your client information and have an easy way of locating specific information quickly.
Organizational Skills
Your business will be easier to manage and run when you're cognizant of your organizational skills and care about being structured at work. Take time to go through paper and digital files and put them in a place that's easy for you to find them at a later date. Make sure your office is presentable, so that clients who arrive for a meeting aren't turned off by the look of the space. The more organized you are, the less mistakes that will occur and the happier everyone will be.
Conclusion
Part of being a small business is attending to the operations and making sure you're prepared to manage all of your clients properly. Use these tips to help you set the tone and guide you to the next steps of growing your business. These are best practices a CPA needs to run a smooth business.