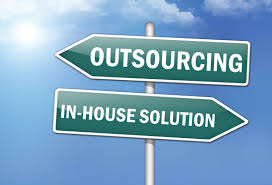 Your business's budget is one the hardest yet most important things to get right. If you're trying to save too much, the quality of your output will drop. However, if you get overexcited about one part of your business plan and blow your budget on it, you'll suffer for the rest of the financial year. While it's hard to get the balance right – especially if this is your first go at managing your own business's budget – there are a few things that can help you out. From choosing remote working over renting office space, to just using digital rather than printing lots of paper, there are some big decisions you can make to cut expenditures. However, there's one question that plagues business owners the world over: when should you hire someone, and when should you outsource?

Hiring in-house
If you're going to hire a professional in-house, you'll be looking at spending more money in the long-term. You'll be providing a decent salary for a number of years, as well as perks such as health care, pensions and fitness plans. However, you'll also then have that resource available at your beck and call. You'll never have to worry about finding someone last minute to jump in and help out because they'll be on site. You'll also be able to grow their loyalty – and sometimes, but not always, you get better work from people who are emotionally invested in their work. Plus, you'll be able to train someone to work the way you want them to, instead of coming in with their own processes and methods.
However, it's easy to hire the wrong people. When that happens, you risk alienating your other employees and making the business a bad place to be. Interview processes are long, and if you use recruiters, can be expensive. You'll also have to dedicate lots of your time to training someone up and getting them working at your standard.
Choosing to outsource
Outsourcing positions is the ideal way to cover a resource gap, without committing to a new employee. Whether you take on a freelancer or opt for a company providing services, you can hand the work over, and stop worrying about it. Outsourcing elements like accounts and legal needs is often a good idea. It's work that you don't need doing every day or every week – and qualified professionals in those industries can be incredibly expensive. Law firms like Blue Sky Filings can be of great help when you need a specialist job covered, without the hassle of hiring. Plus, you're not scuppered by distances. You can have the best quality talent, regardless of whether you're in New York or London.
Outsourcing is becoming incredibly popular amongst businesspersons. You do not have to commit, while being able to find a professional to complete the tasks at hand. If someone you're outsourcing becomes an issue, there are no contracts to fuss around with. However, make sure to assess the situation and job description beforehand. The wrong decision could be costly and time consuming.