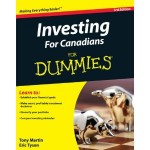 Investing For Canadians For Dummies 3rd Edition by Eric Tyson, MBA & Tony Martin
I think it is really important for all of us to learn as much as we can about investing so that we are fully informed when we make our investment choices.  It's good to know the difference between a stock and a bond and how a mutual fund works.  If you are like me, and want to learn more about investing, diversification, and establishing financial goals, I would highly encourage you to read Investing For Canadians For Dummies
.

I recently found this book in the public library and thought it would not only be helpful for me, but I could also share my thoughts with you.  If you want to learn about investing for retirement, for your children's education, or you are interested in real estate or small business, you will find this book helpful.  Because it covers so many different topics, no single topic is covered in a great amount of depth; however, it provides enough information for you to get started in a certain direction.
The book discusses the different types of investments and gives suggestions as to which investments may work for you based on your specific life goals.  It is easy to read and understand and if you don't feel that you are investment savvy, this book will not overwhelm you as the authors try to keep it as simple and straightforward as possible.
If you are curious about increasing your understanding about RESPs, RRSPs, and TFSAs, this book will be useful for you.  You will also find great tips on how to choose accurate investment resources and what resources to avoid.
It's definitely worth putting in the effort to understand at least the basics of investing.  If you do, you will certainly reap the benefits.  In the book, The Millionaire Next Door, I was surprised to discover that the average millionaire investor only spends about 4 hours a month on their investment portfolio.  If we were all willing to spend just a small amount of time increasing our investment knowledge, I think we would all be more successful and our investments would be more likely to help us to achieve our financial goals.
What are some things that you are doing in order to educate yourself about your investments?