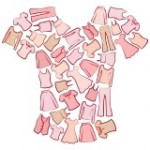 We all reach a point where a new pair of shoes has to be weighed up against the fact the gas bill is due, but being savvy with your cash doesn't mean you can't have a great wardrobe too. There are lots of easy (and fun!) ways to save money on your fashion fix – and you could even get the season's must-have items for free! Take a look at our guide to saving money on your wardrobe for some inspiration:
Use Coupons And Voucher Codes
There are hundreds of web sites offering a host of discounts, offers, and deals to use in-store and online – and high street stores love them! Keep an eye out for coupons for up to 50 per cent off items at your favorite shop at sites such as myvouchercodes and Groupon. And remember, often you can double up on vouchers if you find more than one, just check the terms and conditions. Many vouchers can also be used on already discounted items. It's also a good idea to keep an eye out for in-store publications, which often carry tear-out vouchers for last minute discounts and freebies. For Penny Saver Blog UK readers New Look, Dorothy Perkins and Marks and Spencer are good ones to look out for!

Outlet Bargains
Online outlets and fashion warehouses are great places for picking up a good deal if you don't mind not having the very latest trends. Places such as TK Maxx, Ted's Shed (for Ted Baker outlet items) and Warehouse's own outlet site offer great discounts on previous season items.
There are also some great discounts to be found at members only sites such as secratsales.com, but beware of the pressure-buying tactics they employ: Limited availability and time limits are all in place to persuade you to hit that buy button!
Get Creative
Why not update your old clothes yourself to create a new look and save? Faux fur is a great addition to last year's winter coat and keeps it on trend. Averaging at about £6.00 per square metre at your local haberdashery, that's a very cheap new coat!
Other great places to find DIY fashion bits and pieces are at hobby shops, bead shops and charity shops. Also, don't forget to take a rummage through a 'material scraps' box when you see one!
Swish!
If you don't want to spend anything at all, why not organize a swishing event? Swishing.com helps you set up, organize and run fun social events where your guests bring along good quality items they just don't wear any more to swap with others. Who knows what you could find hidden at the back of someone else's closet?!