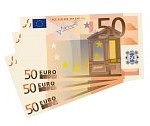 Holidaymakers venturing to Europe in the near future are able to buy their Euros now to ensure they can take advantage of favourable rates.
Buying your currency while the exchange rates are in your favour is a great idea, especially now that you don't need to carry all of your cash around, but instead you can use prepaid cards that are widely accepted throughout Europe.
Prepaid cards are an alternative to the old traveler's cheques but they come with many more perks. Not only does it give you access to your money without having to carry your cash around, once loaded they can be used in bars, shops and restaurants as well as cash points.
The pound is very strong against the Euro as of late, almost reaching the same level as it was in early March, the strongest the pound has been against the Euro in the last seven years. This means that "The continent now offers really good value for money for British holidaymakers," says Bob Atkinson from TravelSupermarket.

However there is no guarantee that the rates will be quite as strong when it comes to buying your Euros as rates fluctuate constantly. It can often feel like your forex trading, trying to decide when's best to exchange your money. If you want to ensure you secure today's rates, the best way to do this is by using a prepaid card.
These cards are much safer than carrying all your money, easier to use than traveler's cheques, and are also very widely accepted. The prepaid card is used in much the same way as a debit card and they are backed by Visa or MasterCard. Once your money has been successfully loaded on to the card, you can then use it as if it were a normal debit card. The key difference between the two is the fact that the prepaid card is not linked to your bank account.
There is no chance of getting yourself into debt as you can't spend money that isn't on the card, this can be very useful for people who like to splash out on holiday and for younger travelers. If you need to top up the card while on your holiday you can do so online or via text. The cards are widely issued in Euros, Sterling and Dollars with some other providers offering various other currencies.
There are a variety of different cards and providers on the market which is littered with different deals, rates and fees. It's advised that you shop around before deciding who to go with, as not all providers offer such a great deal.
"Consumers need to keep in mind that many of the cards levy fees. Some charge you every time you spend on the card, load it or use it to withdraw cash." warns Charlotte Nelson from data firm Moneyfacts. Other cards can charge 'inactivity fees' as well as charging to get your leftover money back off the card after your trip.
So with all these potential fees and charges are you better to just use your bank card?
That depends on where you bank as charges, fees and policies vary. For example if you bank with TSB, every time you make a purchase you're charged a fee of 2.99% of the purchase and a £1 fee. When making a withdrawal there is also a 2.99% loading cost and a 1.5% fee.
However there are specific debit/credit cards designed with use abroad in mind, some with no charge for withdrawals or purchases. The majority of people aren't going to want to change account providers just to get a better deal on their holiday spending, although if you travel for work, or holiday regularly this may be worth looking into.
Finally, you should always take at least some cash on holiday with you, as this is vital for taxis and tips when you land. It's always important to make sure you shop around for the best rates you can get and it's worth keeping in mind that the most competitive deals are mostly found online. Remember to never leave exchanging your money for the airport. If you have left it too late to organize a prepaid card or get a deal online, pre-order your cash for collection at the airport, this will save you a significant amount compared to walk-up rates in the terminals.