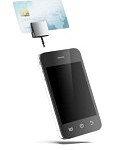 Wireless billing systems are here to stay. Vendors like Shopify are now offering innovative but miniature credit card terminals. These terminals can be plugged into tablets or smartphones to process payments and they are turning out to be quite popular.
Unfortunately, retailers have yet to be convinced to invest in these systems, says Transfirst. They were already using traditional credit card readers to process payments. They had also paid a substantial amount of money to the vendor and the bank, and they were not willing to shift over to wireless terminals so suddenly. Moreover, the general idea was to wait and watch as technology usually changed quickly. Retailers thought that wireless systems would not be useful. There was also a chance these wireless POS system would not gain popularity with customers and it would be a useless investment.
This Perception Is Not True.
Wireless systems are the next step in POS evolution. According to Mobile-Financial, more than 40 percent of small business owners have already shifted over to miniaturized credit card readers. The reasoning for this was simple. Small business owners could not afford traditional POS systems. These systems cost anywhere from $10,000 to about $15,000 or more. They could not afford to pay the rental charges for traditional credit card readers as well. As a result, they usually turned away customers who proffered credit cards. This was particularly true for business owners who did not have brick-and-mortar stores. The newer tablet-based wireless POS systems could be operated through a smartphone or a tablet and they were very easy to use. Customers could collect payments from anywhere and they have now become an accepted method of collecting payments-on-the-go from customers.

Selecting the Right Wireless Card Reader for Your Business
As you can see, with a wireless credit card terminal, you can expand your customer base and increase your business as well. The only thing left is to find a good card reader to use with your tablet/smartphone and wireless POS system. Of course, there are so many different types and varieties on the market. Choosing a single version can be a little confusing. Before you make a purchase, here are a few things that should prove helpful while getting a credit card reader for the first time.
Type of Wireless POS System Used – Always make sure you buy your credit card terminal from a single vendor. If you have already purchased a POS system, get in touch with your vendor to find a compatible system. They may give you the system for a discounted rate. Vendors like Shopify also sell complete hardware and software packages containing compatible wireless POS software, tablets, credit card readers, and scanners.
Cost of Reader and Tablet – If you buy your complete system from a single vendor, it will be cheaper. However, on an average, most vendors charge about $1000 for the entire wireless POS system. For the credit card reader, charges may vary. Some vendors charge a flat monthly fee, while others charge per transaction. Compare prices and plans before signing up with anyone. You can also check online reviews of credit card readers to find out how they work. You should also consider whether having a credit card reader is feasible for you, suggests Bluepay. Will the monthly business cover the monthly fees you have to pay the vendor?
Amount of Business You Plan To Do – Before you even invest in a credit card system, just take a close look at how your business actually works out. Do your customers pay in cash or credit card? How many transactions do you do per day? Will your customer base feel comfortable while their card is being swiped on a tablet or smartphone? You know your customers the best. Give some thought to whether they will prefer conventional credit card machines to newer technology.
Features and Benefits Offered by the Credit Card Reader – As there are so many companies offering credit card terminals for customers, you should compare offers deals and discounts before you choose a single card reader for yourself recommends TopTenReviews.
Getting a credit card reader for your smart phone or tablet does make sense, states Mobile-Financial. With so many companies offering the same product and competing for business, any advantage can be a huge benefit. As a small business owner, you should know that technology could only help you make your business better. Moreover, larger retailers like Apple, Target, and McDonald's have already started using wireless POS systems and miniaturized credit card terminals to make it easier on customers. If you want to retain a competitive advantage, it would make sense to get a wireless POS system with a wireless credit card terminal as soon as possible.