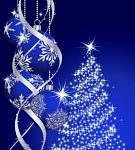 If you like to send out snail mail to friends and family every Christmas, you don't have to spend an arm and a leg to do it.  I lucked out this year and found a box of 40 Christmas cards for $2.00!  I happened to find them while browsing through my favorite dollar store.   I expected them to be really ugly and cheap looking, but they actually are really nice cards.
Sometimes we also write out a Christmas letter letting everyone know what we've been up to during the past year.  This year we didn't due to time constraints, but this is also an inexpensive option.  Just find some cute Christmas paper and print your letter onto it.  You can often find really great deals on Christmas letter paper immediately after Christmas, so if you plan to do a Christmas letter next year, be sure to pick some paper up at a discounted price.

Postage can add up fast, so try to give Christmas cards to friends in person if you expect to see them during the holidays.  We have saved quite a bit of money over the years by doing this.
If you enjoy doing crafts, you can try your hand at making your own Christmas cards, although when it comes to cost, I just don't think you can beat $2.00 for 40 Christmas cards including the envelopes.
It is always nice to receive something by regular mail.  In our age of technology it is so seldom that we receive personal mail, that getting Christmas cards in the mail is a lot of fun.  Even if you don't have a lot of spare time, take a few minutes and write out a few cards for loved ones this year.  Make someone smile.