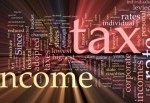 If you are an investor it is important for you to know about capital gains and capital losses, and how they affect your taxes.  Check out these commonly asked questions to find out more about how capital gains will affect you.
Can you explain capital gains tax?
A capital gain is the appreciation in value of a capital property, when sold from the date of purchase. Basically, if you bought a stock for $10 and you sell it for $15, you would have a $5 capital gain. A capital loss would be the opposite; a capital property that loses value when sold from the date of purchase.

If you have any capital gains on investments or investment properties, 50% of the gain is taxable. This amount is added to your income and then your personal tax rate is applied to the total income.
If you have any capital losses from previous years, you can apply them against your capital gains to reduce your tax liability.
I have capital losses going back over several years, but have not declared them because I do not have capital gains during that period. How should I record them? They occurred at different times and amounts for various investments that usually ended up being no longer traded.
You should be reporting your capital losses every year you incur them. The Canada Revenue Agency will then keep track of them and will state them for you every year on your Notice of Assessment. You are able to file an adjustment to your return to add the capital losses to the appropriate year. You will need to complete a T1-Adjustment Form (http://www.cra-arc.gc.ca/E/pbg/tf/t1-adj/README.html) for each year you need to correct.