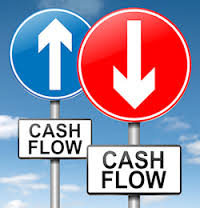 Whether you're assessing your personal finances or you run a business, it's common to go through phases when your books look healthier, and you've got more money coming in. As a business owner, it's essential to ensure that you've got enough money coming in to prevent shortfalls. Cash flow issues can set you back and even put you out of business. If you're eager to keep your company afloat, this guide will help you to design a strategy to conquer those cash flow problems and keep your business above water.

Keep an eye on the books
This is perhaps the most obvious piece of advice, but it's also the most important. When you manage a business, it's easy to get carried away with other jobs, and if you're pushed for time, you may forget to update your books or even have a proper look at them. In order to prevent cash flow issues, it pays to be clued up when it comes to your finances. How much have you got coming in on an average week? How much are you spending? What's your growth forecast? It's always beneficial to plan ahead, as this can help you identify potential issues before they actually come about. If you can see that there may be a problem a couple of months down the line, you can act now to minimize the impact. If you're spending all your time doing other business-related tasks or you don't have expertise in accounting, consider outsourcing this aspect of the business.
Be organized with payments
Whether you run a small, medium-sized or large business, it's essential to be organized when it comes to sending out invoices, collecting payments and updating the balance sheets. Make sure your clients are aware of payment deadlines from day one and ensure they understand how much they need to pay and which methods they can use. Try to use your head, rather than your heart when you've got your accountant's hat on. If you let things slide, this could become a regular feature, and you may find that you're struggling to pay your bills because you haven't been paid by others. Set out the terms of any agreement clearly from the outset and chase up anyone who hasn't paid on time. Delays can be costly for any business.
Get to know lenders
There may come a time when you need to bridge the gap between payments coming in and covering bills, so it's a good idea to get to know lenders. Just as you would look into taking a personal loan out from a site like https://captaincash.ca/loans/alberta/calgary/, you can also borrow money for your business. Provided that you can afford the repayments and you understand the terms of the agreement, taking out a short-term loan can help to prevent a shortfall. If you do take out a loan, make sure you repay the amount in accordance with the guidelines set out by the lender. If you don't keep up with repayments, this can affect your credit rating, and you may find it difficult to borrow in the future. As well as preventing cash flow obstacles, it's also beneficial to have a relationship with lenders if you need to borrow money to cover a new order. If you've taken a lucrative new client, for example, but you're worried about having enough ready cash to complete the order, you can turn to lenders for credit. If you can present order forms and signed declarations of intent, this will make your application more robust.
Try and predict problems
Sometimes, cash flow issues can hit you out of the blue, but often, they can be preempted. Keep a close eye on your forecasts, use analytics to determine trends in your outgoings and your income and take an interest in what's going on in the market in which you operate. If there are obstacles or barriers on the horizon, you'll have time to work out ways of overcoming them.
Reduce spending
It's common to go through times when it's more difficult to balance the books than others, but if you're struggling to get by from month to month, it's important to reassess your spending. There may be areas where you can tighten your belt and reduce overheads. Are you paying for people to travel to meetings, which could be conducted via video calls? Are you getting the best deals from your suppliers? Are you paying too much in wages? There are lots of ways you can cut spending, regardless of the type of business you run. Pages like http://www.lifehack.org/articles/money/7-tips-for-reducing-your-overhead-costs.html may be helpful if you're looking for more ideas to save money. Have a look at the books, see where your money is going, and try and work out ways you can lower your outgoings.
Consider expansion carefully
When you own a business, the goal is usually to grow and earn as much money as possible. The trouble is that expansion costs money. It's very tempting to try and expand quickly, especially if you've got a new business and you've made a flying start. However, rapid growth can leave you out of pocket. Consider an example of a company owner accepting a new job. The job has a quick turnaround time and would require the recruitment of extra members of staff. This is fine if the client is going to pay for the work before the workers receive their wages, but what would happen if it got to payday and the owner hadn't received the final payment from the client? Think carefully about growth, and plan ahead if you do want to expand. There are ways of financing expansion, so seek expert advice and make sure everything is in place before you sign any agreements.
If you run a business, you should never underestimate the importance of paying attention to your profits and keeping an eye on payments and outgoings. Cash flow problems can affect any business, and it's essential to be able to respond quickly and find solutions to keep the business afloat. Check your finances on a regular basis, use forecasts and analytics and try and reduce spending if your profits are suffering.