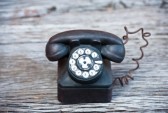 It has become more and more common these days for people to get rid of their home phone service and opt for using cell phones.  Many also take advantage of free phone services such as Skype, especially when they want to make long distance calls.
Whether you are looking for 0844 telephone numbers or you just want a basic package – you may be wise to discontinue your home phone service if you still have one.  There is no point in doubling up your phone costs by having both services unless you truly need them.
Many cell phone packages offer long distance plans, and if yours doesn't, or it's too pricy, you can always use Skype or another of the free online phone services that are available, assuming of course that you have Internet service at your home.

On the other hand, if you don't really need a cell phone, then sticking to your home phone service makes financial sense.  The main thing is that you only pay for what you truly need.  Why buy a cell phone just because it's a fad – if you don't need one, there's just no point in spending your hard earned money on one.
My husband and I have used quite a few different home phone services over the last few years, usually using a company that is Internet based.  The downside of these home phone plans is that if your Internet is down, then your phone doesn't work either.  We currently use Magic Jack.  We pay a flat fee once per year and it's very small.  However, at times our service is interrupted and family members have complained that sometimes they can't hear us properly.  We have continued on with our home phone service mainly because it's practical and cheap for us to do so.
Whether or not you continue to use a home phone must be based on what makes the most financial sense for you.  I would encourage you to research your options – both home phone and cell phone services in your area, and find out if you are paying too much for your current service.  If you are, then it's the right time to make some changes.