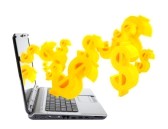 Are you looking for easy ways to make money online? Not everyone wants to start a business to make a few bucks on the Internet, and luckily, you don't have to! There are plenty of ways to earn some extra money for gifts, for a vacation or to help pay the bills without going the business route. Here are a few to get you started.
Selling Crafts
Do you enjoy doing crafty things like making wreaths, sewing, designing graphics or crocheting? There's a big market online for homemade crafts! People are looking for unique, one of a kind items that you just can't find in stores. If you're the creative type, consider selling some of your crafts on sites like Etsy or just offer them up for sale to your Facebook friends.
Completing Surveys
As a woman, you have plenty of opinions, so why not get paid for them? Several survey sites will pay you anywhere from $1 – $10 or more just for completing their surveys. Some take a few minutes while the higher paying surveys could take an hour or more. They're very easy, though. The surveys typically ask about your purchasing habits, use of loans and the habits of the people in your household. It's a great way to make money while helping companies improve their products and services.

Selling Old Items
Yard sales are so outdated. You don't have to set up tables and drag everything out on your front lawn to sell your old things. Use sites like Craigslist, eBay, or your local online yard sale pages to put your items up for sale. This is an excellent way to both declutter your home and make some money for your next family vacation. Just make sure you meet your customers in a safe, public place rather than at your home for security reasons.
Sponsored Social Media Messages
If you're a chatterbox who likes to connect on social media networks, you may have just the right audience for marketers. There are lots of companies that promote their goods and services through sponsored tweets and Facebook messages. Check out these opportunities if you have a big network! You'll get the chance to recommend great products doing something that comes natural to you – talking to your friends!
Now you've got some terrific tips for getting started earning money online. What are you waiting for? Put that fun personality and creative mind to work to bring in that dough.