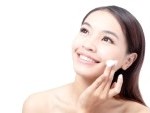 We all know that the pursuit of youth and beauty as we age can cost a pretty penny. First, advertisers create a beauty ideal that no one can live up to and then they sell us products that are supposed to make us look like the perfect, airbrushed models in their ads (who don't even look that good in real life themselves). If I sound bitter, I think I might not be the only person out there who has become disillusioned with the beauty industry as a whole. And yet, what I have learned over time is that some of these products actually deliver what they promise (although to varying degrees). The trick is to find something that works and stick to it if possible, at least so long as your skin is responding. Fess up, ladies: even when you find something that works you're still compelled to try other products (often with disastrous results). And further, you're willing to spend way too much money in the process. However, there are ways to find effective beauty treatments that don't cost a fortune. Here are a few options that will help you out.
For starters, you should always seek out samples of any products you want to try. By simply going to manufacturer websites or beauty counters you can often get trial size, or even full size bottles of the latest beauty treatments on the market. You might even get coupons to buy more should you decide you like the product. But another good idea is to read side-by-side reviews. These can help you to discover products that contain similar ingredients and offer nearly identical results, with the benefit that some are significantly less expensive than others. Just look at how the Olay Regenerist line has stacked up in blind tests – it nearly always comes out ahead of far pricier competitors. Reading user reviews may also be helpful, although you should take these with a grain of salt since women have a wide variety of skin woes and their reviews can be fairly subjective.

But how can you tell which beauty treatments are likely to suit you? If you want to save some money here there are a couple of routes you can take that won't require a guess-and-check approach. You'll want to start by understanding not only your skin type, but also the changes that occur as you age. You might suffer from oily, acne prone skin in your teens, see a gradual clearing in your 20s, and then see a shift to combination skin and further breakouts in your 30s, just for example. You can use this knowledge to pinpoint the products that will do the most good.
But every decade or so, you should also visit your dermatologist. The service doesn't come cheap, but this professional can do an assessment on the current state of your skin and make recommendations for cleansers, moisturizers, anti aging products, and other beauty treatments that will deliver the outcome you're seeking where your skin is concerned. She can tell you which ingredients to look for and which to avoid, and perhaps even make recommendations that suit your budget. All of this could save you a lot of time, money, and heartache. Just remember that there are tons of resources at your disposal, especially on the internet, so you should have no trouble saving money when you purchase the beauty products that are going to keep you looking young and beautiful longer.