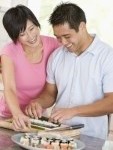 If you are like me, you enjoy trying foods from different countries from time to time.  The easiest way to do this, of course, would be to go to a specialized restaurant that serves that special cuisine you have always wanted to try.  However, going out to eat is often really expensive and may not fit within your entertainment budget.  But that doesn't have to stop you from trying different things and expanding your menu.
Rather than eating out, check out local markets and small grocers in your area that offer goods from various countries.  Major cities will often have stores catering to their multicultural populations so it shouldn't be hard to find grocery stores and shops that sell delicacies from around the world.

Find free recipes online that you think look tasty, and then make a list of the ingredients you will need.  Then search in Google to find a market in your area that sells those ingredients.   Don't be afraid to ask questions at the markets.  The store clerks in these stores want your business, and they are often impressed when you take an interest in their cuisine.
I really enjoy Korean food, so when I crave a Korean dish, rather than making a beeline for the nearest Korean restaurant (and there are a lot of them in our city), I make my own dishes from ingredients purchased at an Asian store.  These dishes are a lot cheaper if I make them from home, and many of them are not very difficult to make, either.  Besides, it's fun learning how to make new foods. It's part of the adventure.
If you have friends or family members that share your taste for cultural treats, arrange get-togethers on a regular basis and try different recipes.  An old friend of mine from university and I used to get together on Sunday afternoons and try different types of stir fry using a variety of ingredients.  It was always a lot of fun and we never knew quite what to expect.
So the next time you want to try an exotic food from some faraway land, try making it yourself.  Experimenting and learning is always fun, especially if you do it with people you enjoy spending time with.  Happy cooking!