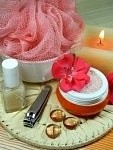 Do you have anyone on your Christmas list that is really tough to shop for because they already have everything? If you do, don't worry, consider treating them to an "experience" instead of buying them more stuff.

Buying "experience gifts" such as a day at the spa, a manicure and pedicure, or a fishing trip, or a night out at a cabin, etc. create memories that last a lifetime.   They don't have to be expensive either.  You could take your friend out ice-skating and then treat to her to some hot chocolate at your favorite coffee shop after to warm up.   You could go to a hockey game with your Dad or spend a day with your little brother at the beach.  Plan a picnic at the park for your significant other or watch Disney movies with your little sister all day and order take out.
Just spending quality time with the ones you love and treating them for the day can make a great and meaningful gift.  If you live far away from someone, consider buying a gift certificate for two so that your loved one can still enjoy an experience with someone they care about.
Don't' get me wrong.  Receiving material things as gifts can be really meaningful too, but sometimes it's fun to mix it up a little and give an experiential gift, especially for those who seem to have it all already.
What are some unique "experience" gifts that you have given to your own friends and family?