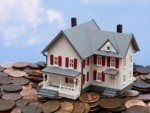 When you move from an apartment into a house for the first time, you may be surprised by all of the extra costs associated with owning a home.  Rent often includes some or all utilities but once you live in your own house you are stuck paying for everything!  When my husband and I first moved from our apartment into our house, we discovered that our living expenses increased significantly.  Water bills, natural gas bills, and property taxes weren't even a part of our vocabulary.  But that all changed when we bought our house.
If you are hoping to buy your first home, I would recommend that you first sit down and create a tentative budget for your living costs at your prospective new home.  Find out how much the previous owners paid for their utilities so you can get a rough idea of how much to budget for. 
Also, remember that you will have to pay closing costs, legal fees, and other bank fees in order to process your home purchase.  Be sure to find out how much these will cost so you won't be surprised at the last minute.  It's smart to spend less than you can "afford" on your house so you will have adequate funds to pay all of the fees, as well as to pay for the extra things you will need to buy that you never needed while you rented an apartment.
For example, much to the chagrin of our neighbors, we didn't have a lawnmower or any garden tools or supplies when we first moved in, so our yard was a mess for a while until we had a chance to pick everything up.  Fortunately a friend of ours wanted to get rid of his old lawnmower so we didn't have to buy one, but purchasing household items can certainly add up.
Owning your own home is great, but make sure to plan ahead to ensure that you can truly afford to live in it once you've purchased it.  Don't feel like you have to furnish your entire house right away, either.  Do it bit by bit as you can afford it.  You will enjoy your new home more if you aren't faced with financial pressure.  Make wise decisions that you won't live to regret.