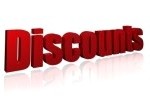 If you are a senior citizen, make the most of the savings that is available to you through a wide variety of discounts and perks.  Below are just a few of the many ways you can save as a senior.
1.  Save money on groceries.  Many grocery stores offer discounts to seniors at a specific time each month.  Pay attention to your local grocery store's advertisements, or simply ask a cashier the next time you shop to find out what seniors discounts they can offer you.  Mark your calendar and plan to do your biggest shopping on the day or time of the best discounts.

2.  Save money at restaurants.  Many restaurants offer seniors menus that are significantly cheaper than the regular menu.  Buffet restaurants also usually offer seniors a discounted price for their meals, making eating out a lot more affordable.
3.  Save money on banking fees.  Most financial institutions provide free bank accounts and other perks to show their appreciation for their senior clients.  As a senior you will often get discounts on safety deposit boxes, free transactions on at least one bank account, and sometimes even free checks and money orders.  Take a look at your bank statements and see if you are being charged any banking fees.  If so, talk to your financial institution and ask about their senior discounts.  It is important to note that even though your financial institution knows your date of birth, most banks will not automatically update your account to reflect the discounts without you proactively asking them to.
4. Save money on public transportation.  Many cities offer public transportation at discounted prices for seniors.  There may even be certain days of the week that are free for seniors.  Find out about the savings options available to you as a senior to ensure that you are taking advantage of them.
5.  Save money on taxes by using a Tax Free Savings Account (TFSA).  If you haven't heard of this kind of account, it was just introduced by the Canadian government in the year 2009.  They haven't been around for long, but they are well worth taking advantage of.  Many seniors don't use them because they simply don't know about them. TFSAs allow you to invest your money without having to pay taxes on any interest earned or growth made on your investments.  So, unlike your Registered Retirement Savings Plan (RRSP), the money you take out down the road will not affect your taxable income and withdrawals will not result in any sort of Old Age Security claw backs.   What some seniors like to do is to put their mandatory Registered Retirement Income Fund (RRIF) withdrawals into a TFSA to let it grow tax free rather than just having those funds sitting in a transaction account doing nothing.
There are many ways that seniors can save money.  If you are a senior, make sure that your money is working for you and not the other way around.  You have more than likely worked hard all of your life.    It's time to reap the benefits of your labor and to take advantage of the perks that come with being a senior.