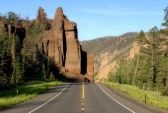 As the weather starts to heat up, it's natural to start getting antsy for summer's freedom and the lure of the open road. There's nothing like a family road trip to see the sights, spend quality time together, and avoid sky-high air fares. Yet the cost of a road trip can quickly add up as well, when you factor in the cost of food, lodging, entertainment, and fuel. Keep the following tips in mind to save a bit of cash without sacrificing on family fun time.
1. Use Money-Saving Apps
Load up your smartphone with apps designed to save you money on fuel, food, and accommodation. Gas Buddy is an app that provides you with current fuel prices at the stations nearest to your location, using real-time stats sourced from other users. One of the biggest money wasters on the road is convenience store meals. You can not only eat better food but get more for your money by downloading apps like Yelp and MenuPages, which show you the top rated options in your current location.

2. Drive More Efficiently
There are several ways to cut down on fuel costs, in addition to using apps like those mentioned above. The type of car you drive has a major impact on your fuel efficiency, as does your driving style. If you normally transport the family in a gas-guzzling SUV, you might want to think about choosing a more economy-minded alternative for your holiday. You can learn about different makes and models, comparing efficiency stats before you hit the road. No matter what type of car you drive, it's possible to maximize efficiency by keeping speeds reasonable and avoiding sudden starts and stops. You can also make sure your car is in shape by taking it in for a tune-up before you depart, which will minimize the chance of a breakdown and ensure it's running in top form.
3. Plan to Attend Festivals and Fairs
Have you thought about the cost of attractions? Even national parks charge entrance and parking fees. Yet there's plenty of free entertainment to find out on the open road, particularly if you'll be driving past inviting beaches or scenic picnic spots. It's worth thinking about looking at community calendars for your journey to find out if there are any local festivals worth attending. In the summer months, many towns offer free entertainment such as concerts, parades, and fireworks to enjoy. You'll not only keep the family amused without spending a dime on entrance fees, but also experience the local culture.
4. Benefit from Last-Minute Deals
Save money on lodging by taking advantage of last-minute hotel discounts on your journey. It can be nerve-wracking to fly by the seat of your pants, but hotels often provide steep discounts on unoccupied rooms at the last minute. Once again, mobile apps are your friend to find these deals. Download apps like Hotel Tonight or Expedia to find discounted rooms from the road.
5. Use the Library for In-Car Entertainment
Before you stock up on costly DVDs and toys to keep your kids happy in the backseat, try paying a visit to the local library. Many offer DVDs and audio books for rental, which can help your children stay occupied without spending a fortune. Let your children choose their own books so that everyone gets a turn.
By getting creative and using downloadable apps to help find the best deals, you can enjoy a stress-free family holiday with money left in your pocket.