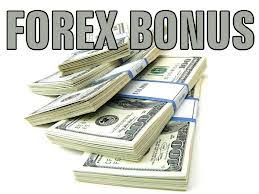 A forex bonus is free money that a forex broker gives you to trade using its trading platform. The only string attached is that you can't take out the amount unless you trade a certain amount of positions. There are a number of forex bonuses and not every bonus is the same. They vary in size, type and bonus clearing requirements.  And obviously each of them has its own pros and cons depending on the amount of your trading capital, trading strategy and trading experience.
There are usually four types of forex bonuses featured by different forex brokers –
Forex pending bonus
Forex no deposit bonus
Forex instant bonus
Forex reload bonus
Let's have a quick look at each of them.
Forex pending bonus – It is a deposit bonus which can't be used immediately for trading. You need to trade to clear the bonus and once done, you can cash the bonus out immediately or you can simply use it for trading. A pending bonus is even better than an instant bonus provided the clearing requirements are really good in that you can free up the money faster than an average instant bonus. Sometimes the brokers offer a pending bonus on top of another bonus making the total offer sweeter.
Forex no deposit bonus – It is real money which you can receive without depositing any money upfront. Forex brokers usually don't offer a 'no deposit bonus' since they believe that you can't be an active trader unless you're interested in putting up at least some money of your own though many brokers approach traders with such a bonus as they want to attract traders to use their platform.  You can't cash this out right away. You must trade a certain number of positions to cash the money out. But it offers you a 100% free forex trading experience and you can trade with real money sans risking your hard-earned dollars.
Forex instant bonus – This is perhaps the best of all bonuses as they are often pretty big amounts and as the name suggests, is instantly added to your account. This is the most popular offer when it comes to online forex trading. The brokers want traders to try out their trading platform and an instant bonus is a very effective way to do so. If a broker provides an instant bonus of 10% up to $1000, it denotes that 10% will be added to your initial deposit. If the deposit amount is $500, then $550 will be deposited to in your account. You can start trading with the amount immediately. The amount of instant bonus varies by the brokers.
Forex reload bonus – Since most brokers offer good bonuses available instantly on signing up, they don't generally offer reload bonuses. A reload bonus is an offer which is rendered on depositing again in exchange for another bonus, mostly an instant bonus. This is a real good offer if you're a regular trader working with the same broker. Basically a forex reload bonus is a reward that your broker offers for continuous trading. Though not all many brokers like easymarkets.com offer such a bonus.
The type and amount offered by different forex trading brokers differ. So you choose one that meets your needs.