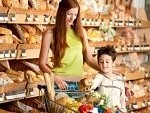 While visiting a friend recently, she gave me a great idea for a way that helps her to keep herself organized as well as to save money on her grocery bill every week.  Her trick is to use a MenuTemplate that she prints off each week before buying groceries.  She writes down what she plans to make, looks into her cupboards and fridge to see what she already has, and then fills in the section for what she still needs to buy.

Then she uses her Grocery List Template.  She has customized her template according to what her family most often eats.  By using this, she is more likely to stick to her list and this also saves her extra trips to the store, as she is less likely to forget anything that she needs.  She simply ticks off the items while she shops.
Feel free to use the grocery list template and customize it by adding any specialty items that may not be on the list.  Remove any that you never plan to use.  Try it out to see how it works for you.   Tick off the small boxes as you shop, and if you plan to buy more than one of a certain item, just mark the quantity required next to the item to ensure that you get what you need.
I would love to be as organized as my friend.  She amazes me.  I am more inclined to compile a grocery list throughout the week and then just hope that whatever doesn't get on my list still gets picked up from memory.  I must admit I have forgotten a number of important items in the past and then had to change my menu accordingly.  I will just have to try these templates as well and see how they work for me.
I hope these are helpful to you.  Please share any ideas that you may have on how you save money on groceries and/or how you keep yourself organized when it comes to meal planning.