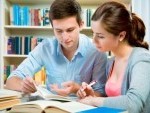 As a college student, it can be tough to balance school and work so that you aren't left eating 99 cent containers of noodles every night for dinner. Between all the studying, homework, and exams, there seems like there isn't much room for a job, let alone a side business. Yet, running a side business during college is a great way to make money without really having to clock in anywhere, flip burgers or strap on an apron. Many of the following side business ideas require very little set up and time, so that you can start making money, because in college you should be working smart and not too hard in order to maximize your potential.
Here are some great side business options for struggling college students:
Start a website or blog that people want to read or visit and have affiliate links or banner ads for products people want to buy. There are many businesses that have affiliate programs so that you can put their link on your website and receive a commission of each item that sells. You can make a website that helps out students, like a local restaurant guide or a list of the best places to study, and put banners at the top or the side of pages to products that other college students might want to purchase.

Start a babysitting business. While it might be hard to dedicate yourself to multiple hours a week to babysitting, you can always contract out local people to do the work for you. Make sure you conduct necessary background checks so that you don't run into any problems, but if you have up to 5 babysitters on your roster you can start to make some serious coin.
You could also start a merchandising business, either for your school or for local brands. Find an inexpensive local screen printer and a good graphic designer and you can open up your services to people on your campus or in your community. Plenty of people need t-shirts, stickers and more designed and printed for marketing purposes.
You can also start a third party online auction site. All you would have to do is find people in your community with art, furniture, antiques, appliances and more that they want to sell and offer a space online where people can buy or bid. Setting up the website would be the biggest challenge and then all you have to do is add products and take a commission when they sell.
Lastly, let's say you are taking a Baltimore GMAT course or getting your degree in psychology at UCLA, you can always find the time to gather a few friends to start a tutoring business. It is recommended that you find tutors with different fields of study so that you can serve a diverse amount of tutoring needs. Generally, you need a good math and language tutor to start things off and to have a successful tutoring business. If people start seeing results from their tutoring sessions in their grades, chances are they'll keep coming back for your services.