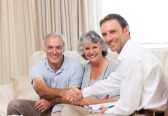 Yet, after years of paying premiums into the plan, many policy holders are highly reluctant to just drop their coverage altogether – especially given the miniscule amount of cash surrender value they are likely to receive in return.
There Could Be a Better Way
Over the past few years, however, many seniors – primarily those who are age 70 and over – have discovered a much better alternative for finding out how much their unwanted life insurance coverage is really worth out in the market place through selling by way of a life settlement transaction. And, it might surprise you to find that their value is likely much higher than your insurance company wants you to think.

A life settlement constitutes the sale of a life insurance policy to a third party purchaser for less than the amount of its death benefit, but for considerably more than the amount of the policy's cash surrender value.
Over the years, most insurance policy holders have believed that their only option for canceling coverage was to surrender their plan – typically netting them an average of between 3 and 5 percent of the policy's face value. The truth is, though, consumers have always been able to sell their policies on the open market – allowing them to realize a much better outcome – through the process of life settlements.
How Long Does the Life Settlement Process Take?
In most instances, the process can take between 16 and 20 weeks from initial application through settlement and disbursement of funds to the life insurance policy seller. However, some life settlement companies such as Harvest Asset Conversion Solutions have been able to speed up the process, shaving off as many as 8 weeks from the total.
Taking the Next Step
As many of today's seniors begin to discover that the life insurance coverage they once relied upon is no longer needed, it is important that they consider all of their viable alternatives before simply allowing their plans to lapse or surrendering the policies in return for only the cash value amount.
In order to sell a policy through a life settlement, the insured and the policy must meet certain criteria. Most life settlement companies will list these factors on their website so that potential sellers can get an idea of these requirements.
For example, in most instances, any type of policy will qualify – such as term, whole life, variable life, or universal life – however, an existing policy must have been in force for a minimum of at least two years.
In addition, certain documents and paperwork will generally be required from the insured, such as medical records, the original life insurance policy, a copy of a valid government issued photo ID card, and any current correspondence that has been received by the policy holder from the life insurance company.