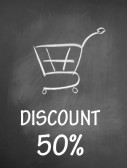 "Greed is good!" This is a well-known money quote for many families, which contribute to their money ambitions, but is it really clever to catch too many promotions? Today, we'll talk about some of the valuable financial tips that will save you from big trouble in life by simplifying your bargains. So, lets begin!
Cheap is Cheap
Sellers always plan to offer products at very reasonable prices with little profit margins. These products are made by the material left  during the manufacturing process. It has been observed that there are significant defects in these discounted products. The notion that "Everything here is cheap and yet in best quality" is no longer valid. Studies show that only 1/4th of discount products are real bargains. Therefore, our financial advice is: "Buy quality products once rather than repeatedly spending money on false bargains!"

Shopping Special Event
Many bargains are not used after a short time, because these items were only bought because of the low price and the time-limited offer. Even if these impulse purchases are not expensive, the costs of unused items add up. If such "sales"  cause you to want to go on a spending splurge, use the waiting time in line at the cashier to think about whether or not you really need the product.
Do You Recognize Your Needs?
If you tend to make unnecessary, impulse purchases, you should analyze the discount  information carefully. Do not decide alone. Discuss and plan your purchases with the family. Sometimes it pays to wait, since the discounters often offer similar products at different prices.
Watch Out For Small Print!
With many special offers specific conditions do apply. Products at reduced prices are usually excluded from having an exchange option. Clothing items are often the least expensive when they have hidden defects. You can easily overlook the tiny note on the label.
Beware of Free Samples
Free samples are very attractive to prospective buyers. While getting such samples, do not provide your info, like your address or phone number, to the sellers because if you do, you will be bombarded with countless e-mails and mailings that may cause you to end up spending money on things you don't need.
Defy  Consumerism
Look for brand quality. If your "expensive" washing machine worked well for over ten years without flaws, it means that purchase was a really great deal.  Moreover, you have also saved a lot of trouble as it hasn't required repairs. It supports the argument that a rational(not emotional), planned purchase is the best financial habit ever.
To Conclude
If we keep on buying things that we don't really need, we will create big problems for ourselves. Eventually, this habit will lead to the frustration of throwing away hard-earned money not to mention all the unwanted clutter in your home.  It can lead you to a serious debt crisis too. So the next time you shop, considering following some or all of the tips mentioned above, and you will be well on your way to becoming a smart shopper.
About The Author
Daniel Watson is a journalist and publicist for Kanetix.ca, an innovative insurance quoting marketplace. Kanetix in Kitchener is the best place to get advice on mortgages. You can connect with Daniel Watson on Google+.