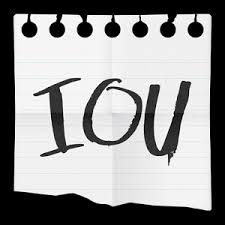 There are very few people that like to ask for help with money. The embarrassment that comes with admitting you're short on cash can be enough to dent one's pride and so, when you're in a pinch, you do everything you can to find other ways to get cash instead of asking friends or family. Now that we are in 2017, there isn't a shortage of places willing to lend you the cash you need, but borrowing money the right way is not something many will look into.

If you need to borrow money to get you through a tough time, you need to do it the right way. There are situations where borrowing money is appropriate – one of those is when your back is up against the wall, the other is where you are borrowing for profit. When you consider having to borrow money, using one of our right ways to borrow is going to get you further than borrowing the wrong way – as in, payday loans with 400% interest!
Credit Cards
Many people stay away from credit cards, as you cannot see the money that you are spending. However, 0% interest cards are on the rise again, with 0% on balance transfers on some others. Using some money on one of these and paying it off again quickly means you are only paying what you are using, which for some is like gold.
Loans
When you choose to take out a personal loan, comparison websites for interest rates and terms are your friend. The last thing you need to do is get caught in the net of extremely high interest rates and not be able to afford to repay the loan that you have taken out. Consolidating your debt with a loan can be an easy way to make your debt far more affordable. You can also slowly build your credit this way. In the first instance, always approach your own bank, but if they cannot help you then private companies can.
Credit Unions
Being a member of a credit union – where you save money and borrow against it over time – is one way to borrow money correctly. Low interest rates, flexible lending and a trust rating that you have built yourself over time are all key here. Credit unions are cropping up in most towns, so you should be able to find one in your area fairly easily.
Mortgages
As with a regular mortgage, you can borrow further against your home and pay back what you've borrowed over time. These are a good way to borrow for large payments like a house extension or college payment. Be careful though, borrowing further on your home means that if you fall into difficulty, you could lose the house.
There really isn't just one way that you can borrow money when you're stuck, and not every solution will fit every borrower. Ultimately, you can only make the right decision for your circumstances and be at peace with that.