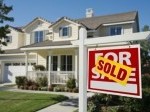 When most people approach the prospect of buying a home, the ultimate resale value probably isn't the first priority. In many cases they are seeking a property that meets certain needs, whether it has enough rooms to support their current family (or account for future growth), a yard for kids to play in, and a modern, gourmet kitchen, or it provides a good school district, a safe neighborhood, and proximity to a job, just for example. In addition, the majority of prospective buyers are working with a budget, which can limit options. So when it comes to considering the potential for resale value down the road, you simply might not be thinking that far ahead. However, you have to consider that buying a home for personal use also entails purchasing a financial asset, and an expensive one at that. You need to know that the money you're putting in is going to pay off at some point with a return on investment. So here are just a few things you may want to think about before you buy.
The first thing to consider is the age and condition of the home itself. If you're purchasing a property that's older than you, you're likely to encounter all kinds of issues. For example, roof leaks, plumbing problems, inadequate electrical systems, and outdated decor are all things that you might find in an older home (as well as hazards like popcorn ceilings that contain asbestos). What this means for you should you purchase the home is sinking in a lot more money if you want to turn your fixer-upper into an attractive property for another buyer during your tenure in residence. Of course, in many cases such upgrades can significantly add to the value of your home, so it's certainly something to think about if you happen to be a handy sort.

However, you also need to take a good look at the neighborhood and the overall area you'll be moving into. If other homes on your block are just as shady with no signs of upgrades in progress, you might expect that conditions will continue to deteriorate, dragging down the value of your property regardless of your own home improvements. If, however, you move into an older area that is undergoing revitalization, chances are good that your efforts, along with those of your neighbors, will be well rewarded as property values across the board continue to grow. In the meantime, you might also want to check crime stats and registered sex offenders in the area before you buy.
Finally, you should think about your timeline. If you're looking to flip a home in order to make a quick buck, this might not be the best time, economically speaking. However, if you're willing to wait a few years you could see a better return, especially if you make some upgrades in the meantime. And if you plan to stay in your home for the foreseeable future, you need to think about how your home and the area you select are bound to change over the next 20-30 years. You'll have all kinds of options to consider when you start looking at homes for sale, but if you want this asset to pay off in the future you need to stop and think about what it has to offer now and what can be done to increase its value over time.