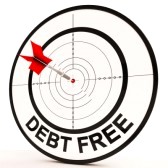 Are you tired of always having more debt than you know what to do with? Do you feel that your debt is only getting bigger because you don't know how to deal with it? Well, you are in luck because debt is nothing that you can't handle. Most people think that they will remain in debt for the remainder of their life simply because they can't control it. First of all, you can control your debt and you need to start today.
How much do you owe?
So, what is the best way to effectively deal with debt?  Well, the first thing that one must do in order to effectively deal with debt is to figure out how much you owe. This is very easy to figure out as all you need are your statements. Just know that these statements will give you the numbers that you need, but after that it will be up to you to take it to the next step.

Create a plan to pay off all your debt.
Once you have all your debt figured out then it is time to create a plan as to how it will all be paid off. My advice to you is to figure out how much money you have to put towards your debt each month and then go from there. A lot of people think they know how much they make but the truth is that they really don't.   You may know how much your annual salary is, but how much of it do you really take home after you pay income tax and other deductions?
You need to carefully determine what you have to spend each month and then put it towards a debt payment. I know that this is not a very fun way to live but for the time being this is what you should do to pay down all your debts. Trust me, you will be glad that you did this as sometimes it is easier to pay off debt now rather than to wait a while and do it all later.   Do not put off paying down your debt.  Instead, make it a priority until it is paid off in full.
Stop using credit.
Lastly, in order to deal with debt you need to stop using credit to pay for things. The reason this is needed is because a lot of people will see that their debt is going down and so they will think it is okay for them to spend a little bit on credit. This is not what you need to do as it will take you twice as long to pay off your debt and the chances of you never paying off your debt will be much higher.
If you still need help…
If you find that even by following these tips you are still struggling to pay off your debt, I would highly recommend that you seek the advice of a debt counselor who can walk you through the steps you need to take in order to battle your debt problem.  Do not be ashamed to ask for help.  If you get the help you need now, you can breathe more easily in the future and maybe you will be in a position to help someone else with the same problem that you are experiencing today.