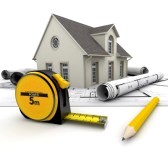 Before you start any big project, you want to know what to expect! When preparing for a home improvement project, you will need to take some measures to estimate how much your project will likely costs so that you can budget accordingly and make sure the project is realistic for your financial situation. Here are some tips that can help you to estimate construction costs for your home improvement project.
Do your research online first. The best way to start estimating the cost of your specific home improvement project is to do a little research online and test the waters. Search a wide variety of different home improvement sites like HGTV, DIY Network, or others that can provide you with costs and resources. Some blogs or chat forums may also provide you with a good starting point as you're trying to navigate costs and options. You can also Google your specific project to find what results present themselves.

Reach out to the people you know. Talk to friends, family or co-workers who have had similar work done. If you know someone who redid their bathroom or kitchen and it was a similar project what you want to do, they can probably give you some information. This will help you factor in what you could expect to spend in your local area, since material and labor costs vary from state to state and even from county to county. In addition, they may be able to refer you to the contractor they used, or warn you about unprofessional services or experiences they've had to protect you.
Get estimates from multiple contractors. When looking for a contractor, you will want to know how much they estimate your project will cost. This estimate usually factors in labor fees and material costs. It is important to get at least 3 estimates so that you can see which are reasonable. If an estimate seems too low, this contractor may be cutting corner just to get your business. On the other hand, if the price is too high the contractor may just be trying to get more money from you blindly. Protect yourself and go with the estimate that seems most reasonable based on your own calculations and research. Often the reliable companies will offer estimates that are close to one another.
Check out your local hardware store. While here, you can look at the appliances, fixtures and even paints you may want to use when constructing your home and working an a home improvement project. You can estimate how much you'll need and what the price is to get a general idea of the total expense.
All of these tips will help you to get an idea as to how much you should be prepared to spend on your home improvement project. While all estimates are general, and you should always budget for more to provide yourself with some wiggle room, getting estimates will help you to decide if this project is feasible for you at the current time before you proceed. Whether you work with a local company that uses LA crane rental, or a large contractor company, taking these steps first will allow you to be a well-educated consumer.