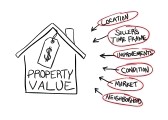 Let's say someone knocks on your door ready to write a check to purchase your property. You are ready to sell and they're ready to buy, but how much do you tell them your home is worth? The true market value or true cash value of your home is different if you were going to sell it in foreclosure or in some other type of forced sale. The true market value is what you would get if someone did happen to show up at your home with their checkbook, but how do you give them more information if you don't have it? Here is how to estimate the true market value of your property.
One way to determine the true cash value of your home is by looking over your property tax bills. Usually an assessor will come up with an abstract number based on the fluctuations of the economy and the housing market. Once you find the assessor's value, you usually want to double it to get an accurate price for your property. If you were going to sell it privately, you could add a percentage point or two to your final estimate to get the best price, but you never want to gouge.

Next, there is also the chance that the assessor got the price of your home wrong. This happens all the time. Perhaps an extra bedroom was added to the final tally, but you don't have a bedroom – or vice versa. A mistake by the assessor could end up causing you to sell your house for more than it's worth, which could get you in trouble. And if you end up selling it for less, you could end up losing hundreds of thousands of dollars all because of a mistake that could have been easily rectified. Just go down to the assessor's office and have them readjust your home's value.
Another way to determine the true market value of your home is to compare the value of other homes in your neighborhood. Perhaps your neighbors have the same size house with the same number of rooms. If you were going to an appraiser this is the very first thing they would do, because the market value for a property stays the same average within a particular neighborhood. Once you get the cash value of three or four properties in your area, you can then compare and figure out the average. Whatever number you come up with will be the true value of your property.
Lastly, if it is becoming fruitless and frustrating to find the true market value of your home, you might have to rely on a professional appraiser. An appraiser will know the ins and outs of the real estate market and will best be able to give you an accurate estimate on the true market value of your home. They will be able to inspect bank records, paper trails of previous owners, or they might use insider calculations based on the current ebb and flow of the housing market. All in all, if you want to skip all the hard work of finding the estimate yourself, it might be wise to hire a professional appraiser.