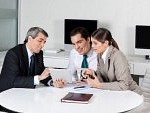 If you're someone who is currently looking for an insurance broker, this means that you're in search of the kind of insurance agent who works independently with numerous insurance companies in order to find just what their clients need.
Being that insurance brokers tend to play a significant role in the type of coverage that you get and how much you will end up paying for it, it's important that you know the steps that you should take in order to find the one that is just right for you.
If you'd like a few tips that can help you choose the best insurance broker, here are five things to consider before making your final selection.
Keep in mind what to look for in a broker. There are several reasons why it's beneficial for you to work with an insurance broker. For one thing, they have the reputation for finding you coverage at a cheaper price than what you would pay if you were to work directly with an insurance company on your own. Secondly, insurance brokers are able to reduce the amount of time that it takes to find the right coverage due to the fact that they are experienced in the insurance field. And finally, being that they are highly-knowledgeable when it comes to different types of coverage, you can be rest assured that they will provide you with the kind of policy that is just right for you. So when you're on your search for a broker, be sure to keep their job description in mind. Money and time savings along with thorough coverage are what a reputable insurance broker provides.

Go on referral. As you begin your quest for an insurance broker, it's always a good idea to ask some of the people you know if they can refer you to someone. Oftentimes, loved ones and co-workers have connections that can make it easier for you when it comes to the beginning of your search.
Check out qualifications. Aside from the fact that you need an insurance broker who has at least a couple of years of experience, it's always a good idea to look for the kind of person who has several advanced insurance designations as well. Some that you should take into consideration include the Chartered Property Casualty Underwriter, the Certified Insurance Counselor, and the Accredited Advisor in Insurance.
Look at several different companies. Say that you've heard some really good things about the insurance broker company, the Charles Goodman Group. Before you decide to hire them to assist you, it's always a good idea to look at several different insurance broker companies first. Thanks to the internet, this is very easy to do. Simply go to your favorite search engine and put "top insurance brokers" in the search field.
Speak with brokers personally. Once you've narrowed down your options to about three different brokers, don't simply go on what their company website says about them. Contact them directly. That's the best way to get a feel for their demeanor and professionalism. Plus, it gives you the opportunity to ask them any questions that you may have. For a list of some questions that you should ask an insurance broker, visit Fin Web and put "questions for an insurance broker" in the search field.