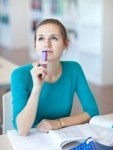 When you're getting ready to begin your college career, there is an awful lot of change and transition that's happening in your life. Even if you're not going to a four-year college, the transition to your higher education can be a serious shift away from what you knew in high school and the years that came before it. Your elementary school and middle school experience was probably somewhat similar to your high school experience. The two are never very different, but your college experience is something entirely different. When you're in college, you're responsible for a lot more of the administrative details of your schooling. You've got to do things like pick your own classes and set your own schedule — and you've got to make sure that you're taking classes which will fulfill both your general education requirements and the requirements set forth by your specific major. There's a lot of responsibility that comes with being a college student, and it can definitely start to get a little overwhelming.
Another thing that comes with being a college student for the first time is freedom. You get a lot more autonomy than you've ever experienced when you graduate high school and get started with college. A lot of students are surprised at the levels of freedom that they experience, and it can be easy to spend yourself into a financial bind when you're out on your own in college for the first time. Even if you're not paying for your own education, college can be a time of serious financial stress. Some of the strategies that can help you deal with this kind of stress, however, are perhaps a lot more simple than you might have imagined.

For one thing, it's very important that you have a budget written out while you're in school. Figure out how much money you have coming in each month, and write down all the things for which you're financially responsible on a regular basis. This will give you an idea as to how much money you can afford to spend on entertainment, and how much you should be setting aside for saving.
Saving money is the best way to alleviate financial stress while you're in college. You want to make sure that you've got a nice financial cushion. Unexpected things can happen while you're in college, and sometimes it can be tough to come up with money quickly. Even if you go to a school like Norwich University, it can still sometimes be tough to find the cash you need when you're in a bind. If you've got a great savings account, however, this problem won't really apply to you.
These strategies are some of the easiest ways that you can go about resolving your financial stress while you're in college. Not a lot of students have time to work long hours and earn a decent living, so these tips will definitely come in handy. When you keep them in mind, you'll be able to stop worrying about money and stay focused on your studies.