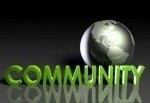 Today a friend and I are going to host a community event to reach out to our local community.  Neither one of us wanted to spend a lot of our own money, so we decided to keep things simple, as well as to ask our community for help.
Here's what we did:
Our community outreach is to connect with the people in our community that were originally from another country.  Our little community has approximately 22 different nationalities represented, so we decided to celebrate this by hosting a potluck in the local park.  We asked everyone to bring a dish from their heritage that they'd like to share with everyone.  By doing this as a potluck rather than say, as a barbecue, the costs of food were much lower and our responsibility to provide food for everyone was greatly reduced.  Now we just had to fill in the gaps and anticipate needs.


Free Advertising
I contacted our town office and local radio station and was able to obtain free advertising for the event. My friend also put up signs around town as well as handed out invitations at another town function.   Advertising took a bit of our time, but it didn't cost us a penny.
What we supplied:
My friend bought most of the kitchen supplies needed, and I was able to obtain donations from our local grocery store and bakery.  We probably could have asked more businesses for donations, but if we decided to this again next year, then maybe we will implement that, saving us even more money, and allowing the community to reach out even more.  I also bought some snacks – a variety of types of chips, and salsa.
Prizes
Our local Economic Development Officer surprised us with a big bag full of prizes in addition to special packages made up for each family to take home.  We were blown away by the generosity and support.  As a result, we decided to get people to write down their names to enter a draw for some of the prizes.
Facility
The park didn't cost anything to reserve, so our facilities were totally free.  The park has a number of picnic tables that we can use and there's a playground for the kids, etc.
We really don't know how this is going to go, or if people will even show up, but no matter what, we're glad we got this opportunity to reach out and hopefully at least a few people can come and enjoy the food and the great outdoors with us.