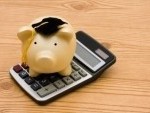 Investing in quality education will set you up for success in all areas of your life. However, it's often difficult to find an educational program that doesn't set you back in debt. Going to college online is the perfect way to fit college into your life–without the debt.
The Financial Strain of Traditional College
It's often assumed that putting out the money at the start of a career to bolster yourself with a college degree is the ticket to earning big down the road. Many back up the high cost of tuition by considering a college education the only way to get hired for high paying jobs. It's worth the investment now, people think, because you'll earn back everything you pay up front.
However, costs of college tuition are skyrocketing. While in the past people thought that you earned your college degree to allow you to earn more money throughout your career, that's simply no longer the case. Your college degree may not land you a job that pays back the costs–instead, you could very easily get stuck with tons of debt. New York's Federal Reserve Bank estimates that outstanding student loan debt nationwide is at $902 billion.
Benefits for Older Learners
Going to college online comes with a lot of financial benefits. Without paying astronomically high tuition prices, you'll get the same knowledge students at traditional college campuses gain. This is especially beneficial when it comes to older workers and learners.

Sure, a 20-something might be more open to carrying around a high level of debt. But for older employees, it's even less likely that they'll work long enough to earn back the money they spent to get that degree. For older workers looking to enhance their earning potential and knowledge, taking courses online makes a lot of sense.
Obtain the Same Knowledge
Studies coming out recently have demonstrated that you'll get similar results from in-classroom instruction and online courses. Even high-profile universities, such as Stanford and Harvard, have gotten in the game with their own online programs.
Online courses are often equally demanding as other kinds of higher education. From online MBA degrees to courses in art, an array of online college choices make it easy to tailor your education to fit your needs.
Other Costs Reduced
The costs of education go far beyond tuition. Going to college online helps to cut these costs as well. As most of these kinds of courses are asynchronous, you can check out the material for your course and take part in the activities tied to the class on your own schedule. That makes it easier to keep up with work commitments, allowing you to go to college without losing chances to earn income.
Online courses also cut down on the costs like course materials, housing, and commuting. When you put the chance to save together with the chance to continue to earn, you'll keep yourself even further from debt.
Going to college online comes with many benefits when you compare it to a traditional college campus. You'll make the same gains in education while saving yourself a lot of money.  Did you know that you can also teach online?  If you have knowledge in a specific field that you feel would be beneficial for others to learn, you too can create an online course and make some extra money to pay your way through college.