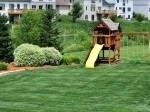 Although the housing market finally appears to have stabilized, and prices are even starting to rebound, you might have decided that sticking with your current home for the foreseeable future offers the soundest financial plan for your family. But you likely still want to do what you can to increase the value of your property in the meantime, not to mention make your home more functional and beautiful while you're still living there. You just might not want to spend an arm and a leg doing it, especially when it comes to "extra" space like your backyard. Let's be honest: you probably feel okay about dropping a few thousand dollars on a kitchen or bathroom because you stand to see an excellent return on investment down the line. But the same cannot be said for backyard renovation. However, with a little planning and some elbow grease you can still turn your backyard into the functional living space and relaxing retreat you're looking for.
Here are a few tips that could help you to cut costs when it comes to your backyard makeover.
There are two important things you need to resign yourself to right off the bat if designing on a dime is your goal. The first is that you're going to have to be patient if you want a stellar yard on a strict budget; and second, you need to put time into the planning process to ensure that you don't have to make costly changes mid-stream. So a good place to start is by downloading a program that will allow you to design and redesign your outdoor room to perfection before you ever spend a cent on your makeover, and SmartDraw is a free option that is ideal for the average homeowner. It may not have all the bells and whistles that some paid programs feature (what with libraries full of plants and materials), but it will help you to create a basic layout that includes zones for planting, paving, and so on.

You don't want to start blindly buying components for your yard makeover without knowing dimensions and what's going where, so this software can make you aware of the square footage you're working with and help you to determine exactly how much of each item you need. This can definitely help you to cut back on wasted funds and materials. From there you can actually start the makeover process, and here, too, there are many ways to save. As mentioned before, you can dramatically cut expenses by opting for seeds instead of cultivated plants, and this includes grass, flowers, shrubs, and even trees. Of course, it could take several weeks, months, or even years to fully realize the scope of your design, but it will be well worth it in the long run. And in the meantime you can get an organic veggie garden going in order to provide your household with fresh produce at a fraction of the cost of store-bought items.
As for things you can't grow, like patios, pavers, planter boxes, light fixtures, fountains, grills and outdoor sectional furniture, for example, try looking at yard sales and on sites like Craigslist to find items that are lightly used (or practically new) for little cost. You might be surprised by just how much of your yard makeover can come from second-hand sources, saving you a ton of money. Although your makeover might not benefit you much when it comes to return on investment, it can definitely serve as a selling point down the road if you do a good job at little expense. And in the meantime, your family will certainly make good use of the yard.