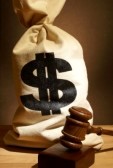 Although we'd all like to avoid it, it seems that every one of us at one point will need to use the services of a lawyer.  Whether it be to get a will done up, to incorporate a business, or more sadly, to file for a divorce, it is quite inevitable that you will be in contact with a lawyer at least once in your life.
As we all know, too, lawyers are extremely costly. They charge you an arm and a leg for even the littlest thing.  I recognize that they have spent many years studying the law in order to provide you with their services; however, most people will agree that their fees are higher than they need to be.  Fortunately, you don't have to pay those outrageous fees any longer because you now have more options available to you.  You can go online and find alternative services that may meet your specific needs.  A couple of examples include sites like LegalZoom  and U.S. Legal.   LegalZoom provides services to Canadians, the UK, and the European Union.
Do take note that these websites cannot meet all of your legal needs, but they can handle many of them.  Just like when you do anything else, make sure you do your due diligence and research it before you go ahead with it.
Most legal websites will help you through the process and will do a lot of the paperwork for you, but make sure that they offer a money back guarantee if for some reason things don't go through properly.  Sometimes saving money but increasing hassles is not worth it.  Make sure you read reviews of the legal website you are planning on hiring prior to starting the legal process.

Making good use of the internet can save you a lot of money.  More and more doors are being opened daily; make sure that you are taking advantage of them so that you can use your hard earned money for more exciting things than paying hefty lawyer's fees.