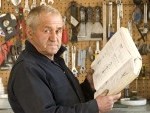 As many of you know it's Father's Day today. When I called my Dad to wish him a Happy Father's Day, he shared with me ways that he saves money on various services he requires. This is what he does:
Rather than spending $110 per hour to have a mechanic take a look at his machinery (he is a farmer), he instead approaches one of the local retired farmer/mechanic's in his area. This particular gentleman doesn't want to take on any big jobs, and he only wants to work once in a while, but the key is, he enjoys the work and he has a lot of experience. So the retired mechanic comes out to my Dad's farm, fixes the problem within one to two hours and only expects a good cup of coffee and maybe $20 for his time.
It's a win-win in this case as my Dad gets great service for a very low price, and the retiree has an excuse to get out of the house, do what he loves, and socialize.

My Dad took this a little further, too. He said he goes this route for other services, too. For example, when he first moved out to his farm, he decided to build a house. He had never done this before, so he asked a retired farmer/builder to guide him. This gave him the knowledge he needed and the confidence, too, to get started on the house. It turned out fine by the way.
Now I know that when you live in the city, it is harder to make the right connections in order to do what he does, but if you attend a sports group, club, church, etc., there are likely retired folks also in attendance. You would be surprised how many retirees would be willing to help out a less experienced person, and they usually can afford to ask a lot less for their work than say a young person who is just starting out and needs the money.
So the next time you decide to start a project around your home or yard, why not consider asking someone more experienced for help?   You may be pleasantly surprised by the result.