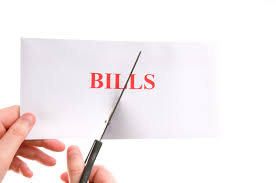 You might be resigned to the fact that your monthly bills are only going to get bigger over time, thinking of it as an inevitability, but you'd be wrong, and if you continue to be resigned to your misapprehension, you'll only end up cheating yourself out of a lot of cash. Don't believe me? Check out these simple ways to cut your monthly expenses bill-by-bill.

Cellphones
The easiest way to lower your cell phone bill and save money is to simply call your carrier and ask for a discount. If you tell them you can no longer afford your current plan, and you're thinking of looking elsewhere, there is a very good chance they'll offer you a better deal.  You could also use something like BillShrink to see if you currently have the best deal, and if not, switch the second your contract comes to an end.
Another thing you can do is evaluate your usage regularly because if you're using far fewer minutes or data than you're paying for, switching plans will see big savings.
Power
For a lot of people, the cost of running a home has steadily gotten to be more expensive, especially now that we all have so many gadgets and gizmos on the go 24/7. The good news is, it's easier than you might think to cut the costs of gas and electricity.
A good way of doing this, which will have knock-on benefits to the rest of your life, is by repairing your credit score. This is something you can find out more about at creditrepair.co, and it works by boosting your trustworthiness in the eyes of providers, meaning that they're more likely to offer you a better deal. It'll also help you to get loans and credit cards with lower interest rates, in the future too.
Other things you can do include turning down the thermostat by a couple of degrees, turning electronics off, rather than leaving them on standby, and of course, using price comparison sites like Power2switch.com to find the best deals available to you. It takes just a few minutes, but the savings can be huge.
Cable
Cutting the cord once and for all might not seem appealing at first, but when you consider the fact that you can watch your favorite shows on Hulu for free, pick up a Netflix subscription for as little as $7.99 per month and watch HBO Go for as little as $15 per month, it's easy to see how you can not only cut the cost of watching TV, but also come up with your own tailored package for less, too!
Groceries
Groceries, I'm sure you'll agree, are a pretty vital monthly expense, but that doesn't mean that you're stuck paying however much you are now on them, or more, forever.  One thing you can do to slash your grocery bills is to start looking for and using coupons. In the internet age, this has never been easier or more effective.  Another simple change you can make to purchase food for less is to switch to off-brand products, which are usually just as good as the branded stuff for a fraction of the cost.  If you can, buying staples such as rice and pasta in bulk can also see the savings roll in.
So, there you have it – some very simple changes to the way you do things can result in significant monthly savings, even if the cost does keep rising!