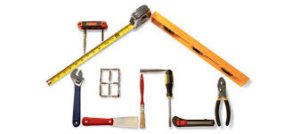 Whether it's to create a more comfortable living space or work your way up the property ladder, renovating your home can be a daunting task. However, it does not need to break the bank and there are many tips and tricks that you can follow to renovate your property on a small budget.
Tactical Painting
Adding a fresh coat of paint to a room is one of the most cost-effective ways to make an obvious change. Nowadays, many people opt for light and natural colours as this gives the illusion of a bigger and brighter room. As well, white paints tend to be a lot cheaper, meaning you can transform rooms and not worry about the strain on your budget.

Finding Cheap Splashbacks
Transform your kitchen and bathroom in an instant by purchasing a perspex splashback. This process has never been easier – simply choose the size and colour you want and the rest is sorted for you. In terms of budget, sheets start from £1… say no more! Whether you opt for the clear option or want to add a focal point to the room, perspex splashbacks are the cleanest, safest, most practical way forward.
Carpet Alternatives
If you are looking for a quick fix to worn out carpet, purchase rugs instead of paying for the whole room/house to be re-floored. This is a far cheaper alternative and will add personality to any room. Rugs can be found for very reasonable prices and the designs are endless. You will be sure to find the perfect rug for your house. In addition to this, purchase a stair runner. Stairs are often the first thing that greets visitors when they walk through the front door, so it is important that you make them aesthetically pleasing.
Feature Walls
If you are a wallpaper lover, it can be hard sticking to a small budget when there are so many designs to explore. A good trick when in this situation is to apply wallpaper to just one wall of the room. This is known as a 'feature wall' and it will immediately transform the space, while also giving it personality.
Practical Storage
Hallways are often an area that get overlooked when it comes to refurbs. However, it is one of the first rooms that guests will see and should set a great first impression. Keep your hallway area tidy with a do-it-all storage system. Combining a bench and shoe storage will save both room and money. This is a tactical way to keep your hallway both tidy and accessible!
Take these tips into consideration and your bank account will thank you. Also – don't forget to explore around high-street shops, including charity shops. You will be sure to find some second hand bargains which look as good as new. Start your journey to transforming your home today, no matter what your budget is.