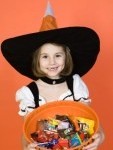 I was listening to a CBC radio station last night and there was a feature about how much Canadian parents are spending on Halloween costumes for their children, and on Halloween in general.  I could hardly believe my ears when I heard that parents were spending on average about $50 for one costume, and that's not including all the accessories!  Apparently by the time all is said and done, Halloween is costing between $100 and $150 per child in a Canadian household.  Yikes!
This may be all fine and good for parents who can afford this, but it makes me sad to think of all the kids whose parents really shouldn't be spending that much money on Halloween.  The good news is that costumes can be made quite cheaply with some creativity and flexibility.

Below are some tips that will help families save money on Halloween:
1. Find great costume ideas by shopping at thrift stores.
One of the tips mentioned on the radio show was to take your child shopping at Value Village or another thrift store.  There are many great costumes to be created from inexpensive material found in these types of stores.  Although it may be easier to just go to a retail store and pick up a costume, if you are willing to take some extra time, you will be able to save a significant amount of money.
2. Reuse Halloween accessories from past years.
Remember to take a look at the previous year's Halloween items before making a beeline for the stores.  By keeping all the Halloween accessories and costumes from previous years, you may be able to reuse some or many of those items again and again.
3.  Stock up once Halloween is over.
As well, once Halloween is over, the stores often want to clear out their remaining Halloween items, so this is a great time to pick up items that can be used for next year.  Although this may be tough as you won't know what your child will want to dress up as next year, some items will likely be sure to come in handy.
Halloween can be a lot of fun for kids; however, it won't be much fun for parents if they have to spend so much each year on costumes.  Hopefully some of these tips will help you to reduce how much you have to spend.