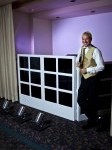 As you have probably become aware during the process of planning your nuptials, weddings can be a pricy affair. If you want to include family and friends in your special day, venues will have to be rented, caterers and photographers hired, and arrangements like flowers and appropriate attire purchased, all of which can quickly add up. And for the average young couple footing the bill, a limited budget can get eaten up in no time. For this reason you may be looking for a few ways to cut costs in order to ensure that all of the bases are covered without blowing the budget. And while there are money-saving options on every front, you probably have your heart set on certain splurges like a designer wedding dress or a particular venue. Luckily, you can save a lot when it comes to one area in particular: the music and entertainment for your reception. Here are just a few options to consider.
Call in a favor. If you happen to have family members or friends who are musicians or entertainers, perhaps you can call in a favor for discounted or even free services for your reception. Whether you get a solo musician, a band, a magician, a psychic, or someone who makes balloon animals, calling upon talented associates to provide you with a wedding gift in the form of entertainment can save you some big bucks on your overall bill.

Check local schools. Most couples want dancing at their wedding reception, which generally entails hiring a band of some sort. But you don't necessarily have to shell out tons of dough for professionals, especially when there are likely plenty of talented amateurs in your area looking for gigs. And finding them may be as easy as checking in with high schools or colleges in your area. Once you've got a few leads on the line, see if you can attend a jam session or otherwise audition the bands in order to find the performers that are right for your wedding. You might also contact music teachers in the area – if they don't have any students who perform, perhaps they could provide you with entertainment. Either way you'll likely pay less than you would for a known professional group.
Use singing/dancing waiters. If music and entertainment are both on your list of must-haves for the reception, why not hire people who can provide both? In addition to serving food, singing and dancing waiters can do double duty by entertaining your guests throughout the evening. You'll kill two birds with one stone at less cost than hiring them separately.
Hit the bar scene. Finding a band you can afford might be difficult, but if you want to sample a wide variety of options in your area, consider hitting the bar scene on the weekends to see what kinds of acts are available locally. If you find a few you like you can talk pricing. The average bar band is likely to be extremely entertaining and at a lower cost than a wedding-specific act.
Hire a DJ. If you want your guests to boogie down to the hottest songs on the music charts, there's no better option than to hire a DJ for the night. However, professional DJs can be pretty expensive. If you simply can't afford one, see if you can talk a family member or friend into spinning discs for you. Anyone with an A/V background should be up to the task, but if there's a kid in your family with an amateur table setup, that would be even better.