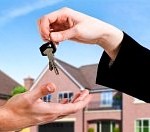 If you're lucky enough to own property, it can help to give you a sense of security and better finances. But it's not an easy thing to manage, and it can still cause problems. One of the most difficult things to do is sell or buy property. It can be a long and complicated process, and not to mention an expensive one. You can spend months or even a year or more trying to sell, and completing a purchase can take just as long. Luckily, there are ways to save money even on these enormous transactions. Make property trading less stressful with these money saving techniques.
Skip the Estate Agent
One of the significant costs of selling a property is the fees charged by the estate agent. They'll take a percentage of the sale price when you sell up, which is often a commission of between 4% and 6%. This fee can amount to a significant sum of money, which you're unlikely to be prepared to lose. If you want to avoid it, you could try skipping the estate agent together. Many home and commercial property sellers choose to sell on their own. They do this by advertising online, in newspapers and elsewhere. Even if you pay to place adverts, you could still save a lot of money compared to using an estate agent.

Use an Online Agency
Another option is to use an online agency to sell your property. These cheaper companies don't have physical offices, so they're not as expensive to run. Many websites charge flat fees to list your property, so you could save thousands. They can still offer the same services that standard agents use, such as taking professional photos and writing descriptions. They can handle the paperwork too. All you need to do is show people around when they come for a viewing.
Shop Around for Inspection Quotes
It's always a good idea to have a property inspected before you buy it. You don't want to sign the contract and move in, only to discover lots of problems you didn't know about. Some mortgage lenders might require you to have one performed too. But this is another expense you have to add on to all the others when you're buying property. So it's important to shop around and try to find the best price. An inspection itself will help you save money by avoiding unexpected costs, but you can save even more by finding a reputable inspector at an acceptable cost.
Choose the Right Lawyer
You'll need to have a lawyer deal with all the paperwork when it's time to either sell or buy a property. You can find both residential and commercial conveyancing solicitors at a good price, but getting the right one is crucial. You don't want to waste time and money on someone who isn't prepared to give you their full attention. Make sure you consider a few different options so that you avoid hiring a lawyer who is had to get hold of or takes ages to do anything.
You don't have to empty your pockets completely when you sell or buy a new property, whether it's residential or commercial. Pay attention to all the costs involved to make sure you can afford it.