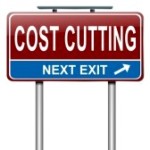 Do you have a home-based business? If so, we think that's great. Not only does it speak to your sense of ambition, but also your creativity and focus. Although there are some real benefits that come with working at home (like being able to enjoy the comforts of working in such familiar surroundings), it requires a lot of time, energy and effort (continually) to make it successful.
That's a big part of what this article is about. We know that in order for your business to thrive, you need as many resources as possible and one of the main ones is money. And so, if you are looking for some ideas on how to start cutting costs as it relates to your home-based business, we have five great ones for you right here:
Focus on what you need (more than what you want). As long as your company is up and running, there will be things for sale that will catch your eye. However, just because you want something, that doesn't necessarily mean that you need it (or need it right now). Owning the latest Windows software or the newest computer is usually not going to affect your daily performance so, if it's not a dire need, wait until it makes financial (and good business sense) to purchase it.

Be smart about your home office. You definitely want your office to look professional while representing your personal style, but if you do not plan to have a lot of clients coming into the space, be savvy about how much money you put into the décor. A couch doesn't have to cost $1000 to achieve the look that you desire. You can find great furniture pieces on sale.
Get creative with your marketing. It's hard for anyone to solicit your services if no one knows that you exist. For this reason, having a marketing budget is not a luxury, but a necessity. However, thanks to social media, there are a lot of ways that you can get the word out, free of charge. Create a Facebook fan page. Start a YouTube account where you can post videos for people to subscribe to see. Contact your local newspapers and radio stations to get a copy of their community calendars so that you can post some of your information on them. Offer free giveaways in the form of T-shirts, reusable cups, etc. that have your company logo on them through your website and newsletters. The more you do to let people know about your company, the more potential there is to make more money from the individuals who end up becoming your customers.
Be digital. Thanks to technology, there is a lot that we all can do without needing to waste one of our most valuable resources: paper. Thanks to websites like www.onlinefaxservice.com, you can send faxes online. Thanks to websites like www.signatureconfirm.com, you can do the same with contracts. Oh, and when it comes to a lot of your communication with clients, customers and staff, try and do as much as you can on email.
Use contracted workers. As your business continues to grow, you may need to hire more workers. By hiring contracted workers, you (usually) don't have to be concerned with providing benefits or even paying their taxes and sometimes, that can be a real benefit. Plus, since they are also (usually) working from home, that keeps them from having to spend money on commuting back and forth to an office space. It's a win-win for everyone.